Lina Taskovich - The Graduate School at Michigan Tech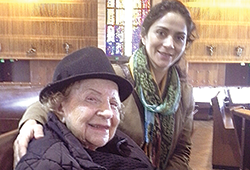 Filling out financial aid paperwork before the first year of college can be stressful. Thankfully, a number of aid options are available to most students, including grants and scholarships. This support is made possible through the generosity and foresight of a great number of donors.
For students in graduate school, the options are much fewer. Last year, around 87 percent of master's students at Michigan Tech were self-funded without University financial aid, mirroring nearly identical numbers seen around the country. While loans are available to help cover expenses, a helping hand is most welcome for those in advanced study.
Lina Taskovich, a 1952 Tech graduate, established the Natale and Maria Luisa Tormen Endowed Scholarship to benefit students from Ecuador or Italy, the two nations making up her heritage. Without a significant student population hailing from either Ecuador or Italy in the undergraduate ranks, financial aid staff and the Graduate School were informed by John Gierke of the Department of Geological and Mining Engineering and Sciences about a graduate student who would benefit greatly from Lina's generosity.
Teresa Munoz is pursuing an advanced degree in geological sciences, hails from Ecuador, and happens to have attended the exact same high school as Lina. "I used to work at the Public Metropolitan Enterprise of Water Supply and Sanitation of Quito (EPMAPS)," she says, "which is interested in proper management of water resources over the basins that are used for water supplies."
Teresa was awarded the Tormen Scholarship, enabling her to focus on her research. "My topic is on the contributions of glacier meltwater to recharging groundwater systems in the headwaters of Ecuador's Pita River Watershed," she explains. "Most of my work uses geochemistry to quantify the contributions of melting glaciers on Cotopaxi to the river flows and groundwater supplies."
Lina's gift isn't only benefiting Teresa, but is also helping contribute to the body of knowledge in geological sciences and the scientific understanding of the hydrological processes in Ecuador. "After I graduate, I will go back to my country and work for EPMAPS and contribute to their objectives for more sustainable management of water resources," says Teresa. "I am very grateful to have received the Natale and Maria Tormen Endowed Scholarship and Lina's generosity means so much to me."
The two had the chance to meet last December in California, one generation of Tech researcher benefiting from another. Asked why she endowed this scholarship, Lina said it was to help others get "the same excellent education I had." Taskovich graduated in 1952 with a bachelor's degree in chemistry, the only female graduate in the discipline. She came to Tech intending to stay a year; she stayed the course and, in fact, encouraged two brothers and friends to attend, too.
Lina remains grateful that her parents encouraged her to enter science; she has named her endowed scholarship after them- Natale and Maria Luisa Tormen-and their encouragement those decades ago is making more research, more scholarship possible in 2015.
Would you like to make that kind of difference? The Graduate School's growth has doubled in the last five years and the University's goal is to double that again-even with the self-funding model. There are many ways to give, and your generosity continues groundbreaking research, innovative ideas, and discoveries to make a difference in the lives of all of us.