Nuttalls - What it Means to Give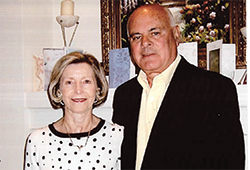 It's the helping hand that pulls you up the most when you need it, and Grant Nuttall has never forgotten the hands that have helped him. The retired oil executive and his wife have established the Joseph A. Romig Annual Memorial Scholarship, keeping an important mentor's name alive and helping the next generation of entrepreneurs.
When Grant Nuttall decided to leave Imperial Oil-a colossus of an energy company in his native Canada-to further his education at Michigan Tech, his family had some concern.
"They thought it was a bad move," he explains. "My mother, my sister, they didn't think school was for me. And I had never heard of the place before talking to my uncle. Never heard of Michigan Tech or Houghton," he says with a laugh. "I'd heard of Lake Superior."
An aptitude test showed that he should excel in business, and with the support of faculty, he did indeed excel. "At the end of four years, I was ranked either one or two in the entire School," says the 1959 graduate. "And my family thought I was lying! I had to convince them that I had become a good student."
There was help along the way, with faculty not just teaching, but mentoring. "Joe Romig asked me what I wanted to do," Grant says, remembering the long-time business professor. "He just transitioned within one question, going from being my teacher to being my mentor. It got me thinking about the future."
Joe also proved to be prophetic near the end of Grant's studies, saying that if he went back to Imperial, he'd be on the board some day. "And I did," Grant says. "I became a vice president of the company. He was right. It's quite something."
Grant and Maureen-whose career was also with Imperial-have been paying it forward throughout their lives. Grant has been mentoring for a number of years at a local school for troubled children in Naples, Florida, and Maureen has now joined him. As they give to their local community-splitting the year between Ontario and Florida- they have also sought to make a difference in the lives of students at Michigan Tech.
"When I started giving back to Tech, it was nothing huge, but what we could do every month," Grant explains. The Nuttalls-who are McNair Society members-decided to remember Grant's mentor with their giving, establishing the Joseph A. Romig Annual Memorial Scholarship.
"I can tell you it's a great feeling. When that scholarship named after Joe came out, it was very emotional. It put me on a high. It was definitely doing the right thing."
But why give now, decades after paying your last tuition bill?
"It's a concept of owing," he says. "There aren't many days that go by that I don't think of Michigan Tech. You do owe. We all do. We owe for what helped us get there in our lives and careers. It'll make you feel good, and you're making a very real contribution. How can you pay back what was given to you?"
Grant and Maureen make it back to Houghton occasionally, and their relationship with the School of Business and Economics has grown stronger over the years; they have made provisions in their will to further support Tech and the School of Business and Economics.
"I was on that first SBE National Advisory Board," Grant says. "My sister came with me for the presentation. Here I was, all these years later, and I said to her, 'I don't know who is going to see our mother first, you or me, but if it's you, can you let her know I did okay?'"
Grant Nuttall passed away in 2016.