John and Phyllis Seaman, Honoring a Family Legacy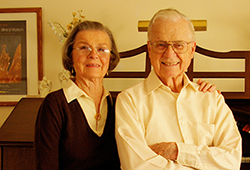 When you hear A.E. Seaman, you might think of the A. E. Seaman Mineral Museum. But for John Seaman, A.E. was grandpa. And honoring his late grandfather, founder of the museum, is why John (Jack) and his wife Phyllis support the museum in a big way.

Fondly known as "Prof", A.E. was a true gentlemen with a bubbling sense of humor. "He was quite the kidder! Growing up in Houghton, my sister and I used to hang out in the museum [at the time located in Hotchkiss Hall] and help him," Jack recalled.

Geology and Michigan Tech are traditions in the Seaman family. Both A.E. and Jack's father, Wyllys, were Michigan Tech alumni and faculty. "My father was a student of my grandfather's and actually got his master's degree before my grandfather,' Jack chuckled. A.E. Seaman chaired the Department of Geology and Mineralogy and founded the mineral museum in 1902. He served as museum curator until his death in 1937. Wyllys Seaman served as curator from 1943-1948 and many other Seaman family members went on to graduate from Michigan Tech. For Jack and Phyllis, it's important to foster this family legacy.
Jack's career went into a different direction. He attended Michigan Tech long enough to spur a career in tool and die making. Jack went on to work with skilled German machinists, specializing in toolmaking. His career took him to the West Coast, where he met Phyllis. Phyllis, too, enjoyed a productive career; first with Eastman Kodak and later in banking.

In the early 1970s, Jack and Phyllis made their first contribution to Michigan Tech with a gift of stock. With Phyllis's enthusiasm, the Seamans continue to support the museum through a combination of annual and planned gifts.

Nationally and internationally recognized, the A.E. Seaman Mineral Museum is the largest public exhibit of minerals from the Great Lakes region and is the official mineral museum of Michigan. Exhibits change and improve continually, as the museum strives to educate the public about minerals and their relevance to society. And just like A.E., the museum preserves mineral heritage for future generations.

Just last year, Phyllis and Jack enhanced the museum's footprint, providing for a garden to be enjoyed by the campus and local community. Jack calls it "Phyllis's Garden," paying homage to his wife's avid green thumb. He traveled from their home in California to Houghton for the garden's dedication ceremony.
Most recently, Jack and Phyllis worked with Karla Aho, Director of Gift Planning at Michigan Tech, to establish a charitable gift annuity and a substantial endowment to support the museum.

Jack, 96, and Phyllis, 88, have been ballroom dancing partners since they met on the dance floor over 50 years ago. Today, Jack makes time for photography, browsing on his iPad mini, and playing the organ. Phyllis enjoys working in her garden back home and is glad "her" Michigan Tech garden is in full bloom. "I'm in total agreement with our support of the museum. At this age, I enjoy watching other people do the work!" Phyllis said, smiling.
The A.E. Seaman Mineral Museum—a place where Jack once ruffled through his grandpa's paperwork—has a solid funding base for its future, thanks to Jack and Phyllis Seaman.