Jane Fryman Laird '68 and Dr. Martha Sloan – Blazing a Trail for Generations of Tech Women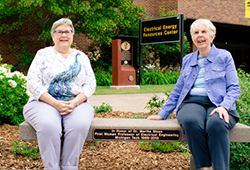 Two Michigan Tech trailblazers gathered at the Husky Statue Plaza during Alumni Reunion 2018 and shook hands for the first time. Both have made their mark at Michigan Tech: first, as women in an academic community made up almost exclusively of men, second as donors whose gifts have made a profound impact. They share a passion for providing their time, talent, and treasure to make the University even better.
Jane Fryman Laird was the only female electrical engineering major in the Class of 1968 and the first to earn a BS in Electrical Engineering with a concentration in power.
Dr. Martha Sloan came to Michigan Tech in 1969 as the first female electrical engineering faculty member. Later, she became the first female president of the Institute of Electrical and Electronics Engineers.
Laird retired in 2001 after a full career in industry, focusing on powertrains, ignition, advanced electrical systems, and powertrain technical education. "That's one reason why I give back to Tech," she says. "It prepared me for all the jobs I had and gave me the tools I needed to succeed at them. Tech gave me a great life."
To pay tribute to Sloan's impressive legacy at Tech and her groundbreaking achievements, Laird has dedicated a bench at Husky Plaza in her honor. Giving of her time, she has served on the Michigan Tech Fund Board of Trustees and on the Michigan Tech Alumni Association Board of Directors. Plus, she chaired the 25th, 40th, and 50th reunions for her Class of 1968.
Laird's support for Michigan Tech started early, with her first pledge of $5 a month in 1971. Since then, she has supported the Rozsa Center for the Performing Arts; music, theater, and athletic programs; two Husky Statue Plaza benches; and more. In addition, she has established an endowed scholarship in electrical engineering.
Sloan, who retired in 2013, began giving early in her career with donations to the Huskies Club. Over the years, she also provided support to the library, the Rozsa Center, the Memorial Grove, and the electrical and computer engineering department. She established an endowed scholarship in the name of her late husband, Norman Sloan, which covers tuition for a senior in the School of Forest Resources and Environmental Science, and she has generously underwritten the Martha Sloan Endowed Scholarship, awarded to the outstanding woman junior in the electrical and computer engineering department.
For Sloan, giving to the University has been an easy choice. "Tech has treated me well, backed many of the things I wanted to do, and encouraged me, putting me where I could be most successful," she says.
Through the scholarship funds they established and support, these women have provided 33 Michigan Tech students with financial assistance totaling $156,307.