Tom '68 and Lynda Barley – Helping Students Realize Their Dreams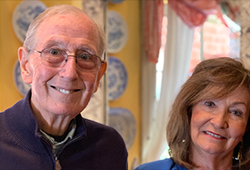 By his own admission, Tom Barley has had a great life. "I had a 45-year, all-expenses-paid tour of the world, all with the same company," he says. "We moved 13 times, and my wife loved to travel. It was very enjoyable."
Tom's career with Johnson Controls began in 1968, when he graduated from Michigan Tech with a bachelor's in mechanical engineering. He rose through the ranks, retiring in 2014 as vice president for global business compliance and improvement.
Such a future was beyond Tom's imagination when he was a kid in Menominee. "My sister's husband and all four of my brothers had gone into the military—World War II, Korea, and Vietnam—and I was destined to do the same," he says. But when his mother died, the family agreed to use the entire inheritance to support Tom's college education. "I will always owe them a huge debt of gratitude," he says.
"When I went up to visit Michigan Tech, I really liked what I saw," Tom remembers. Furthermore, he got two scholarships "and I thought I was an athlete and could play basketball." After laboring on Tech's basketball and tennis teams, he hit his stride playing intramural sports as a member of the Kappa Delta Psi fraternity.
"I liked the people, I liked the school, and I liked the engineering education I was getting," Tom says. Looking back, two faculty members stand out.
"Who strikes me most is Dr. Berry," he says. "Every engineering student that came to Tech was thrown into his lecture hall, but the important part was the classes between the lectures. It took some of us longer to figure that out than others." Another favorite was his fraternity advisor, Jean Anderson, who was on the mechanical engineering faculty. "He was very helpful during some rough times."
In retrospect, Tom admits, "No one would have accused me of being a really good student." Yet Tech provided a solid foundation for his career at Johnson Controls. He eventually became the company's University liaison, securing a substantial award from his company to Michigan Tech. "That's when I started to give back myself," he says.
Ever since, Tom and his wife, Lynda, have generously supported numerous Tech initiatives, including the Annual Fund and the Huskies Club. With other fraternity members, he launched the Kappa Delta Psi Endowed Scholarship.
In 2016, the couple established the Thomas T. and Lynda K. Barley Endowed Scholarship and a similar endowment at her alma mater, the University of South Dakota.
"I made the decision to go to Tech based on two small scholarships. That little bit of help made a big difference to me in choosing Tech. I thought that if those scholarships helped me make that really good decision, maybe our scholarship could help someone else make the same good choice."