Treasured Legacy, Bright Future for Renowned MTU Mineral Museum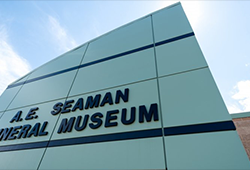 John "Jack" and Phyllis Seaman celebrated Jack's 103rd birthday with a gift to Michigan Technological University that ensures the A. E. Seaman Mineral Museum will continue to impact students, scientists and the public for generations to come.
The John and Phyllis Seaman Endowment for Curation of the A. E. Seaman Mineral Museum will provide perpetual support for a museum curator. Current director and curator John Jaszczak has been named the inaugural appointee to the newly endowed position. The curator holds the responsibilities of caring for, growing and utilizing the museum's collections of minerals and related objects for exhibit, education and research.
Jaszczak, who has served as a professor in Michigan Tech's Department of Physics since 1991, has been an avid mineral collector since childhood. His love of minerals inspired him to become a scientist and his career achievements include discovering new minerals.
"We believe the vitality, value and stature of the museum is linked both to the extraordinary quality of its collection as well as to the integrity, passion and creativity of its people — from supporters and donors to employees past and present," said Jaszczak. "We are most grateful to Jack and Phyllis for their visionary support, and for partnering with us in pursuit of continued excellence as we work together to share and discover the wonders of minerals."
The Seamans also established a Student Support Fund for students involved with the museum in honor of Jean Petermann Kemp Zimmer '39, who served as museum curator from 1975-86, and Jack's sister, Jeanne Seaman Farnum. These two pioneering women studied geology under Wyllys Seaman.
"Many members of the Seaman family have served as pioneers in Michigan Tech history, and we're proud to carry on their tradition of excellence here," said Bill Roberts, Michigan Tech vice president for advancement and alumni engagement. "We are thankful to Jack and Phyllis for this gift and their longtime commitment to Tech. Their exceptional generosity will leave a lasting legacy on the A. E. Seaman Mineral Museum, which provides benefits to the University and greater community. We deeply appreciate their support and friendship."
Nationally and internationally recognized as one of the best mineral museums in North America, A. E. Seaman Mineral Museum's mission to curate a comprehensive collection of minerals and educate people about their importance traces back to the state of Michigan's Enabling Act (#207) of 1861 seeking to establish the Michigan Mining School "at or near the village of Houghton." Today, the museum curates approximately 40,000 cataloged objects in the Michigan Tech collection and the University of Michigan collection, held under the Michigan Mineral Alliance. The museum houses the world's finest collection of native copper and other Upper Peninsula minerals, a superb collection of minerals from around the Great Lakes Region and a broad representation of fine minerals from around the world, displayed in its 8,000-square-foot building. The museum and gift shop are located on the south end of Michigan Tech's campus with easy access off Sharon Avenue in Houghton. Watch this Mineral Museum mini-tour from Keweenaw Convention and Visitors Bureau to learn more about the museum's history and collections.