Warren - The Retirement Unitrust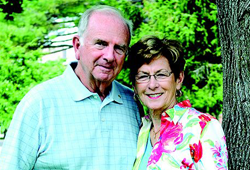 Joe Warren remembers Professor Bredekamp's class as if it were yesterday, but that's to be expected, he says. "Anybody who had Bredekamp remembers." The chemical engineering professor was lord of the Unit Operations Lab, where seniors routinely worked from dawn till midnight.

"He taught us the practical side of chemical engineering," Joe says. "If we could satisfy Bredekamp, we could satisfy any boss."

Joe began to apply those lessons immediately upon graduation, when he went to work at 3M. He rose through the ranks, eventually serving as vice president responsible for the Imaging Systems Group.

Now retired, Joe and his wife, Jane, are giving to Tech annually and also through a charitable remainder trust. "It's a straightforward and easy way to make a gift," Joe says. "I think some part of everyone's estate should go to a good cause. Why give it to the government? You receive income from the trust and get a tax advantage as well. It makes a lot of economic sense."

Joe says they donate to Michigan Tech in part because the University did so much for him. "And I recognize that the state doesn't fund universities at near the level as when I went to school.

"The other underlying reason is that, from my years at 3M, I'm confident that Tech graduates will do a good job. Tech has always been a special place. It produces grads who are immediately productive. Our country needs outstanding college grads who are practical and able to solve problems."

He proudly adds that one of their grandsons currently attends Michigan Tech.

*Please note: Since your unitrust benefits may be different, you may want to click here to view a color example of your benefits.