Lehman - Gift Annuity for Real Estate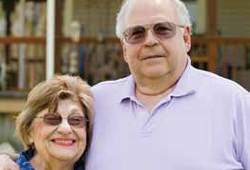 Don Lehman came to Michigan Tech in 1959 to get an education and play football. He did both, earning MVP honors in 1962 and graduating in 1963 with a bachelor's degree in civil engineering.

He says football, for which he earned a scholarship, taught him dedication and leadership. As for civil engineering, he liked the fact that he could get his hands around it. "I couldn't see electricity," he says, "but I could see that steel and concrete."

After graduating, Don worked for thirty-two years at General Motors, retiring as assistant superintendent of maintenance and plant engineering at the Buick Motor Division in Flint.

In 2000, Don and his wife, Joyce, decided to transfer a rental property in exchange for a charitable gift annuity, which provided lifetime retirement income and a tax deduction to them and will later help Michigan Tech. Pleased with the results, they used another rental property and then appreciated securities to establish additional gift annuities. Don and Joyce also plan to fund annuities with deferred payments, which will supplement their two sons' retirement incomes in the future.

While their annual giving largely supports Tech's football program, most of the couple's annuities will fund the Don and Joyce Lehman Endowed Scholarship for undergraduates who major in civil engineering and play football.

Don attributes their financial plan to Tech's Eric Halonen, who, he says, generated the idea, provided the research, and helped them work out a plan when they wanted to begin diversifying their appreciated assets. "He continues to keep me informed and gives me good ideas."

"Tech provided an education that helped provide my family a good living," Don says. "Without scholarships and financial help, I would never have made it. My support now is like repaying a debt."

*Please note: Since your gift annuity benefits may be different, you may want to click here to view a color example of your benefits.