Rivard - Bargain Sale - Part Gift and Part Sale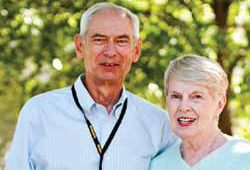 Dan Rivard had a couple of distinguished careers at Ford Motor Company. First, he was the process quality overseer when "quality became job one." Then, he was called out of retirement to run Ford's international racing efforts, giving him entree to the pressure-cooker world of NASCAR, Formula 1, Indy cars, and World Cup rallies.

Today, he and his wife are helping Michigan Tech students through the Dan and Carol Rivard Product Realization Center. A gift to the Department of Mechanical Engineering–Engineering Mechanics, the lab allows students to design, model, and fabricate new products, so they can gain practical experience in all phases of engineering.

Dan credited in part legendary professor Aubrey Gibson for this inspiration and department chair Bill Predebon for the opportunity. "Gib had said that our labs had drifted from 'hands-on' to 'the care and feeding of PCs,'" Rivard says. "When we dedicated the lab, Gib was there, and I asked him if the new lab would get us back to our future; he just smiled and chuckled."

The Rivards' decision to support an entire laboratory was executed via a gift-planning vehicle called a "bargain sale."

"We had twenty-two acres with lakefront that had appreciated significantly, and we sold the parcel to Michigan Tech for well below its market value," he said. The Tech Fund was able to sell the land at a substantial net gain, and the Rivards also were able to show a profit on their investment.

Their donation is helping students to shape their own futures, just as Dan's Tech education and degree in mechanical engineering launched his extraordinary career. "I thought I was growing up to be a carpenter," Dan says, recalling that he was the first in his family to attend college.

He has become a builder, of course, constructing a great life, both personally and professionally, while supporting Michigan Tech in appreciation for the valuable "toolbox" it gave him along the way.