McBride - Deferred Gift Annuity - A Conservative Way to Give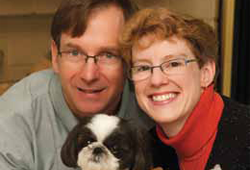 Dave McBride recognized instantly that Michigan Tech would be a good fit. "When I went to Tech, I knew right off the bat it was the place for me," he remembers.

McBride aimed to own his own construction company and majored in business administration. That also turned out to be a good fit. After graduating in 1982, he started up McBride Construction in Petoskey and has been in business ever since.

"My business education gives me a huge advantage," he says. "Tech gave me the tools I needed to succeed. I got a tremendous value for my education dollar, and now I want others to have that opportunity."

Dave and his wife, Joy, became annual donors just two years after he graduated. While still in their forties, the McBrides established two deferred-payment charitable gift annuities. "We wanted to make gifts that would significantly benefit Michigan Tech and at the same time have the flexibility to receive income from them," says Dave. "It was a conservative way for us to make substantial gifts."

Some donations were appreciated securities. "It's an excellent way to give," he says.

"I would highly recommend it."

He credits Tech's Development staff for opening their eyes to the benefits of giving. "Tech held an estate planning seminar that was hugely beneficial," he said. "We were able to develop an estate plan in mid-career."

The McBrides have enjoyed the emotional rewards of giving. "The business was successful, and we just felt it was the right time to support things that were important to us."

"I'm very blessed to have found Michigan Tech and gone to school there," Dave says. "It's been a wonderful foundation for my life."

*Please note: Since your gift annuity benefits may be different, you may want to click here to view a color example of your benefits.