Frayer - Charitable Gift Annuity - Peace of Mind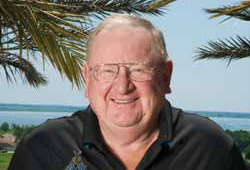 As a former dean of the School of Forest Resources and Environmental Science, Ed Frayer wants to provide benefits to education long into the future. With endowed scholarships, he is doing just that.

When Ed retired from Tech, his financial advisor suggested purchasing a pension, but he didn't want to draw down his principal, choosing instead to "live on less than the income from it" if he could.

"I did set up a deferred annuity with Michigan Tech to begin with," he says, "to provide some steady retirement income during the ups and downs of equity investment returns and to later help forestry students. I'd given previously to the forestry building addition."

As Ed continued his estate planning, he substantially increased his commitment to Tech with a trust bequest. He likes the fact that he can use the funds during his lifetime if necessary and is happy knowing that the remaining trust assets someday will significantly benefit Tech's students.

There have been bumps along the way. His TIAA-CREF annuity wasn't paying out as well as it used to, his stocks weren't doing well ("like everybody else's"), and some real estate investments near his home base in Lady Lake, Florida, have also faltered.

A tornado in February of 2003 came within a half mile of our house, too," he says, appreciating the good fortune of the close call.

Overall, he demonstrates his commitment to education by teaching algebra and statistics at Central Florida Community College and also teaching seashell identification in his Florida living community.

And, of course, he supports education in his contributions to Michigan Tech. "I want to provide educational support that will last over time," Ed says. "I know the students will use it and appreciate it."

*Please note: Since your gift annuity benefits may be different, you may want to click here to view a color example of your benefits.