Shunta - Gift of Appreciated Securities - Capital Gains Bypassed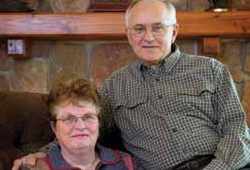 "Normally, Judy and I prefer to keep our charitable activities, if not anonymous, certainly low key," says Rudy Shunta. "We like to help out where we can, but the magnitude of our donations certainly doesn't put us at the philanthropist level." Nevertheless, the Shuntas agreed to "go public" to encourage others. "We wanted to share our belief that it is everyone's responsibility to pass along their good fortune to those who follow them," he says.

Rudy paid his way through Michigan Tech in a multitude of ways. His parents helped, his uncle arranged for a summer job, and he received several minor scholarships. "I also had a fellowship as well as a teaching assistantship and a counselor assignment in Wadsworth Hall," he says.

With this help, Rudy earned a BS in Mechanical Engineering in 1962 followed by an MS in Engineering Mechanics a year later. Those degrees contributed to a successful career at General Motors and later at Dana Corporation's Perfect Circle Sealed Power Division, where he was vice president/general manager.

After Rudy retired, he and his wife began donating appreciated securities to fund the Rudy and Judy Shunta Endowed Scholarship, which supports undergraduate mechanical engineering students.

"I've always been interested in investing, and over the years, I've bought stock that has appreciated quite a bit," Rudy says. "By giving it to Michigan Tech, you don't have to pay capital gains, and the University receives the full value."

"We are hoping that those who benefit from this scholarship will someday feel the responsibility to do the same as we have done. Good fortune is only a loan," he says.

"Pass it on."