Larm - Charitable Gift Annuity - Fixed Income for Retirement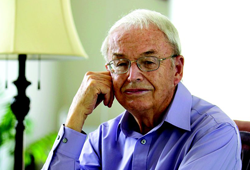 Ken Larm, a civil engineering graduate and veteran of the Korean War, retired as a cost estimator and process engineer for the Crown Group Inc., Miller Metal Products Division, in Grand Rapids, Michigan.

A long-standing annual supporter of Tech, Ken's reason for helping Tech is clear. "It's important for the United States to stay in step with the world today regarding education," he says. "Our country's need for highly educated people keeps increasing, and we need to remain at the leading edge."

Ken decided to supplement his annual Michigan Tech support with planned gifts, beginning with a charitable gift annuity in 2001. Since then, he also has included a bequest for Tech in his trust and has funded a second gift annuity with the Michigan Tech Fund using "good, old-fashioned" savings bonds. His giving has focused on biological sciences, civil and environmental engineering, and biomedical engineering.

Ken's support of Tech meshes with his concern for K–12 school districts, especially those in Michigan. "A lot of districts are not up to their potential, and it will take a lot of effort to get them back on track," he says. "Tech can help, not only through outreach but also by providing top-quality teachers with a solid foundation in math and the sciences."

He sees the charitable gift annuities that he has funded as a "very easy and practical way to provide this support," taking into consideration the tax benefits and the lifelong income stream they provide.

*Please note: Since your gift annuity benefits may be different, you may want to click here to view a color example of your benefits.