Lentz - Bequest Through a Living Trust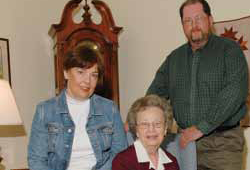 Mark and Connie Lentz's decision to support Michigan Tech actually began with Mark's father, Dean, Class of '53.

"I knew I wanted to go to an engineering school," Mark recalls, "and after looking at three Wisconsin schools, my dad asked, 'Did you ever consider Michigan Tech?'" Although Dean never pushed his alma mater on his son, he did refer to it fondly and often. Dean and his wife, Shirley, married between Dean's junior and senior years at Tech. While Dean finished his electrical engineering degree, they survived in the old, cold Quonset huts for married students.

Mark says that his father was passionate about giving, and often said, "Always support and give back to your family, your community, and your profession." Giving back to Michigan Tech was a way of giving back to his profession. After Dean passed away, Shirley continued his tradition of giving to Tech. She is supporting the Class of 1953 Scholarship Fund with a bequest "in accordance with my father's desire to give back to the University," Mark says.

Mark, a civil engineering graduate, and his wife, Connie, have followed suit with a living trust bequest to create endowments for the Department of Civil and Environmental Engineering and Tech's precollege outreach programs. "We worked hard for our money, and we want to make a difference," Mark says. "Fifty percent of our estate will go to Tech because we want to support future generations of Tech students." The decision to look at trusts also had to do with his stage in life. "I've been with the City of Fond du Lac for twenty-nine years," he says, "advancing to the position of public works director. It was time I started looking into estate planning, now that I am closer to retirement."

Mark credits the Tech Development staff with helping them make their decision, so they can make a difference in people's lives.