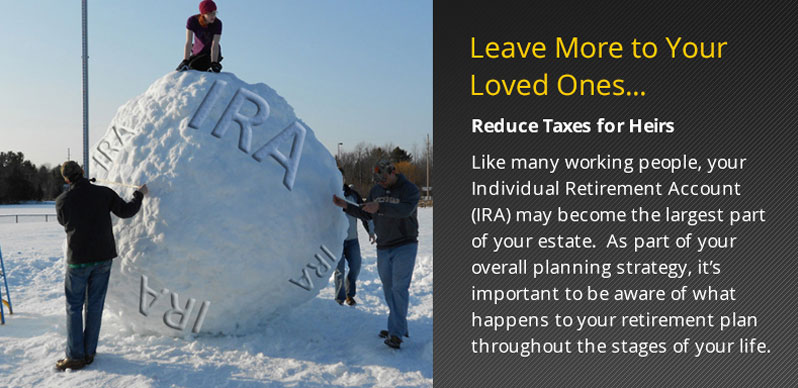 When you withdraw money from a qualified retirement plan, it is subject to income tax. This is also true for any beneficiaries or heirs who receive funds after you pass away. There is no way around the tax. You and your beneficiaries can count on it.
A retirement plan can be a tax-efficient and simple way to include the Michigan Tech Fund in your estate plan. A bequest of part or all of your IRA allows you to make full use of your funds during your lifetime, after which the charity of your choosing will benefit in the future tax-free from the full value of what remains.
As an alternative to leaving retirement assets to loved ones, consider leaving appreciated stock instead. Your heirs will receive the stock income tax-free and with a basis equal to its value when the stock is received. Income tax is due only when the stock is sold, and only the amount in excess of the stepped-up basis is subject to tax.
Estate Gift to Heirs
Amount Subject to Tax
$50,000 gift of retirement assets
Entire $50,000 is subject to tax when it is withdrawn
$50,000 gift of appreciated stock
Only the increase in value exceeding $50,000 is taxed when stock is sold (no tax due on initial $50,000 gift)
70 1/2 years of age or older? An IRA Rollover Makes Sense!
In 2015, Congress reauthorized the IRA rollover permanently. This means that if you are age 70 1/2 or older, you can make a charitable gift of up to $100,000 from your IRA per year and see the impact of your gift during your lifetime. Your gift will qualify for your required minimum distribution, and you will not have to pay federal income tax on the amount transferred directly from your IRA to charity. Check with your advisor on how an IRA rollover gift could reduce your taxes while helping charities like the Michigan Tech Fund.
Giving Back to Michigan Tech through an IRA
Paul Williams '61

"Turning 70-and-a-half was an eye opener. I didn't want to deal with tax implications. I have nothing against taxes, but I wanted to put my money to work", Paul Williams '61 says.

Paul gives to the Paul and Susan Williams Center for Computer Systems Research and the Paul and Susan Williams Endowed Scholarship.

Kenneth Larm '50

"I want to give back to Michigan Tech which gave me a start in life's great journey," says Kenneth Larm '50. "And, I like helping fund new areas of research and development and programs for future students."

Ken gives through his IRA and other means to the Biomedical Engineering and Civil and Environmental Engineering Department.

Bob '65 and Wallis Sloat

"Michigan Tech was a tipping point in my education," says Bob Sloat '65. "There is a special place in our giving plans for Michigan Tech. Taking advantage of charitable rollovers is a good tax strategy and also helps Michigan Tech."

Bob and Wallis give to a Chaired Junior Professorship in the Chemical Engineering Department.